Sustainability
03.02.2022
4 Min.
"The contrast keeps me creative."
In the "WEffect" sustainability series, the BMW Group highlights the sustainable contribution made by a wide range of people in the company – and the motivation that inspires them. Today: Tom Binder.
Sustainability has many facets at the BMW Group because we are using this term to harmonise business, the environment and society. If we are to successfully put these high standards into practice, we need our employees' commitment. Everyone can play their part in making the BMW Group sustainable.
So, who are all these colleagues who make sustainability part of their everyday work? What drives them to roll up their sleeves throughout the company? In its "WEffect" sustainability series, the BMW Group introduces employees who play their daily part in the broad and responsible further development of our company.
In the latest edition of the series, Tom Binder, BMW Exterior Lighting Designer, explains why sustainability starts from within.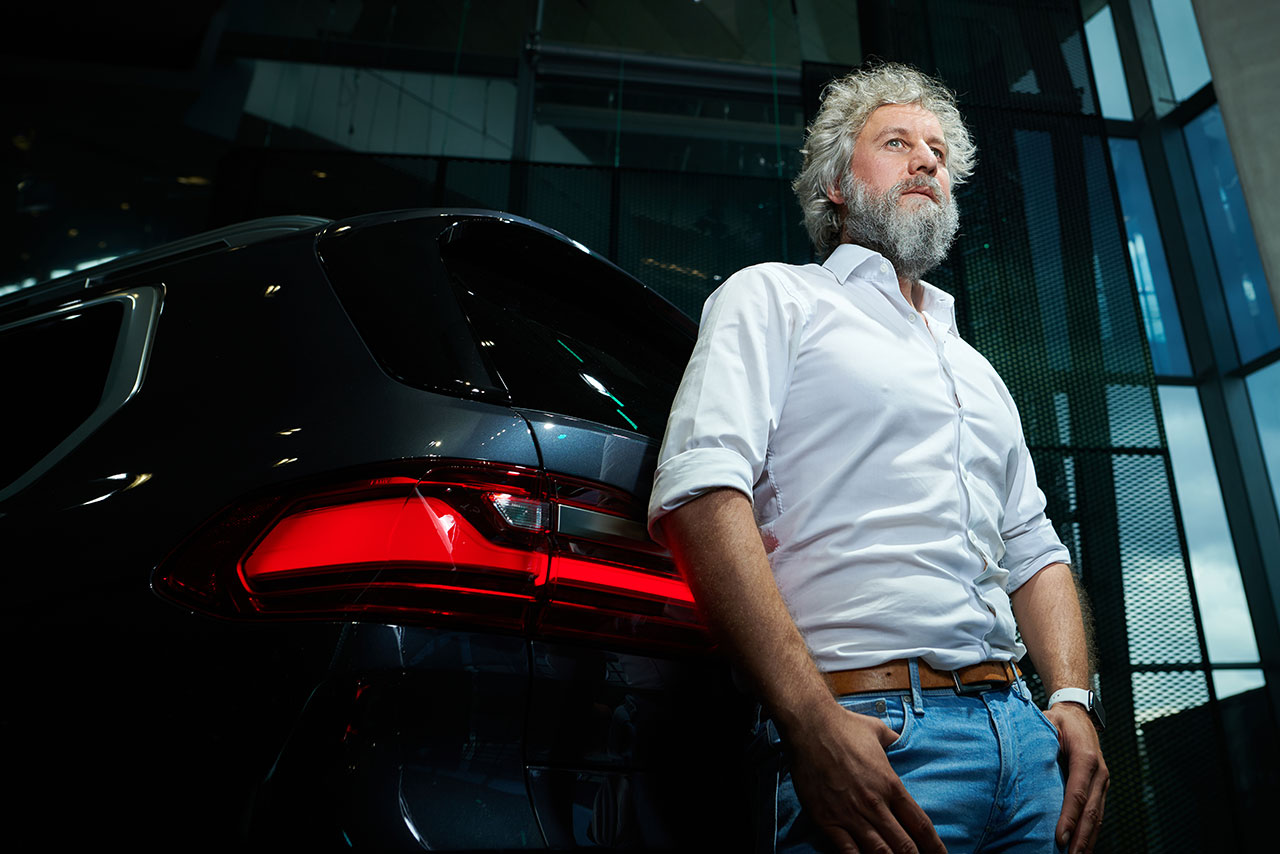 Tom Binder, in your day-to-day work you and your team design and create new, energy-saving headlights for future BMW vehicles – a very technical task. In your free time, you create tables from whole tree trunks. What brought you to this combination?
Tom Binder: I am a trained carpenter, and I have had a fascination for wood since I was a child. It was only later that I took my A-levels and then studied design. I came to the automotive industry through my enthusiasm for cars. I am fascinated by the technology, the complexity, the constant change here in the company; I also have many colleagues and networks here. And speed is always of the essence; it's always about getting ahead quickly and meeting set deadlines. We work sustainably in the company by optimising the energy balance in the product, for procedures and processes. We are moving step by step towards sustainability. It's completely different when I work with wood. I work alone, I make all the decisions myself. I work with the inside, the heart of the trees – nature has made these pieces, I leave them as they are. Forest managers give me logs that are left over from forest maintenance. The fresh planks dry for many years. I could use dryers, but I don't want to because that's not natural, it's not good for the wood and it consumes a lot of energy. I use no varnish or glue, at best oils. Working with wood is inherently sustainable, and it's like meditation for me. It's immensely calming. It is purist. We also live a purist life here in the Tyrol, in our wooden house, which is over a hundred years old. It is in stark contrast to my work in a large corporation, to the high-tech life in the big city of Munich. But that is exactly where the fascination lies, through the contrasts. One balances out the other.
How do you combine these opposites? What moves you to live both?
Binder: That's just me. I want to create things that don't exist yet. It doesn't matter whether I'm designing a vehicle light or a table: I have a vision, an image in my mind. And then I look for the path that will take me there. In both cases, it is always about finding solutions and using creativity and ideas to shape something new. When it comes to vehicle lighting, the brand-defining and future-oriented design comes first – and the energy issue is a close second. Because with electric cars, the energy the headlights consume while they are on comes at the cost of the vehicle's range. So we need to find ways to increase the efficiency of the light we have, to refocus it in a new and different way – simply so that the headlights are bright enough, yet use less energy. At the same time, we are faced with the question of how to design lighting systems so they can be easily repaired, individual parts can be replaced and the elements are as recyclable as possible. Sustainability in all its facets presents us with new challenges. I enjoy tracking down new technological topics and targeting the way I use them. And it brings my work to life when there is a problem I have to solve. It makes me really think. I start to ponder and make an exhaustive search for solutions, which leads to new ideas and then to better results.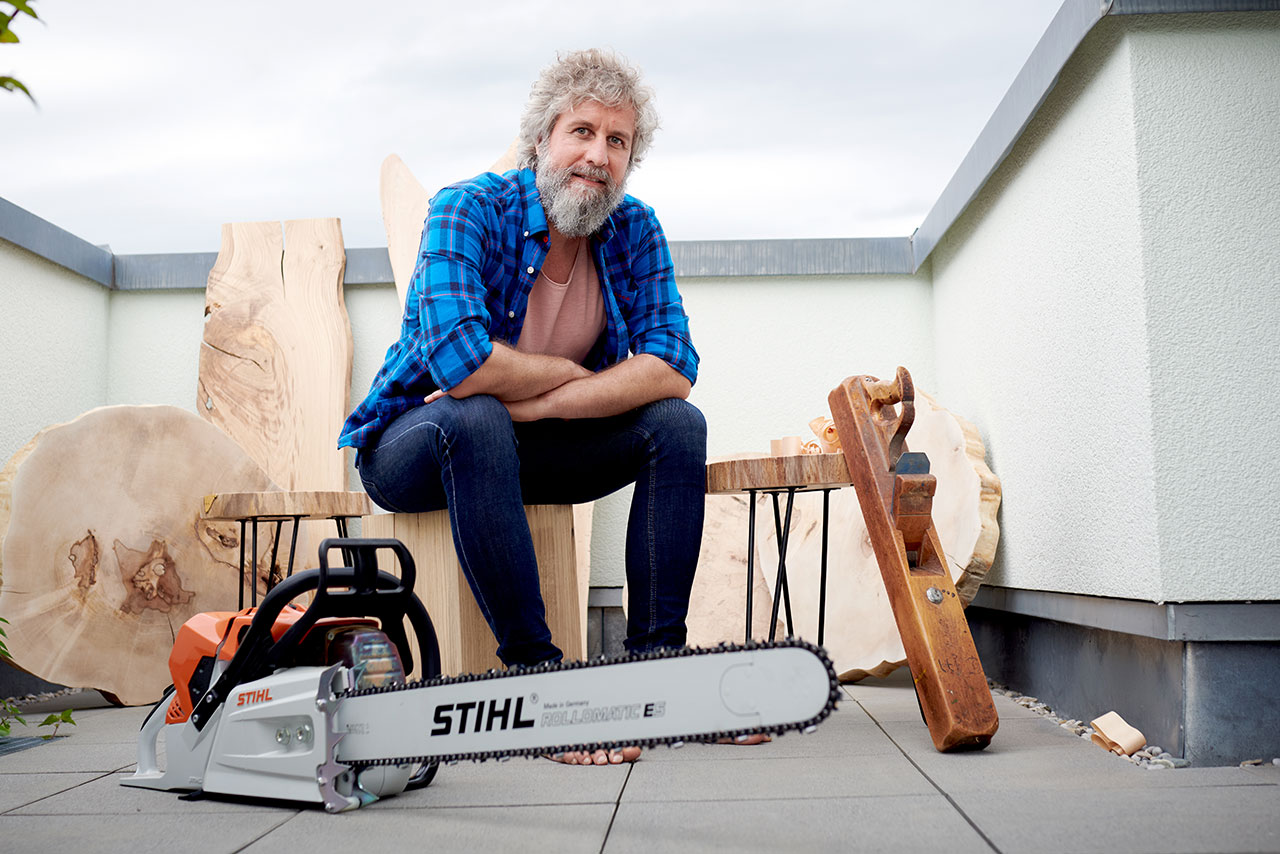 You told us that you only started woodworking again a few years ago. How did that come about?
Binder: I was looking for a balance, for something that keeps creativity flowing and grounds me. I've also noticed that even with all my enthusiasm for technology and my city life, I'm always seeking out the purist aspect and the quiet. I have found this equilibrium in my Tyrolean workshop. The original definition of sustainability says that you only ever take as much as can grow back. It's the same with your own energy and creativity, which you should also approach in a sustainable way.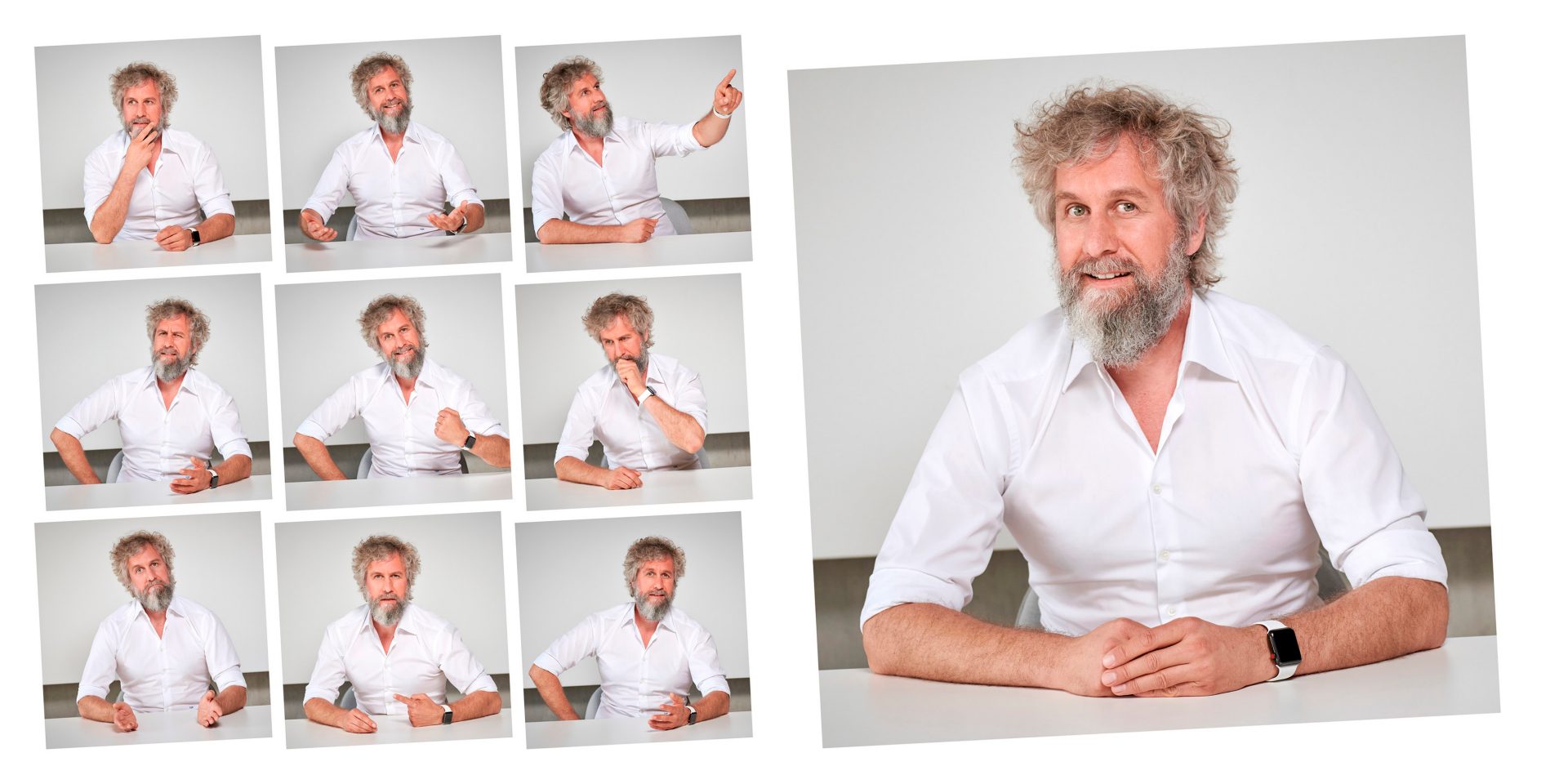 Nevertheless, it's a life in two worlds. Where does the motivation to keep fully committed in both worlds come from?
Binder: It's the contrast. Light is technical, complex, rather cold, needs energy. Wood is simple, gives warmth, provides energy. The high-tech environment with all its potential contrasts with the simple, reduced, natural life. The combination keeps me creative. I can't imagine working alone in my workshop day in, day out, nor can I imagine working in the Group and nowhere else. The mix makes the difference. It's good this way.
In the upcoming portraits from our "WEffect" sustainability series, committed colleagues will also describe their motivation and explain the contribution they are making to sustainability within the BMW Group.
"WEffect – we make the BMW Group sustainable."
#mycontribution #mymotivation