Innovation
29.01.2023
6 Min.
Developers of the future:
BMW Group IT.
The IT experts at the BMW Group create digital applications for every division of the company. Thanks to their innovative solutions, associates around the world are directly supporting digitalisation.
The BMW Group is a pioneer in smart vehicle networking and the integration of digital mobility services. Its cutting-edge technologies take safety and comfort on the roads to a new level as it utilises the opportunities of digitalisation to reinvent mobility.
IT is about more than "just" vehicle IT. Far more, BMW Group IT permeates every area of the company, developing and operating digital solutions throughout the BMW value chain and beyond. That's because the digital penetration of every single business process harbours huge potential for the future of the company.
As a constant driver of innovation, Group IT aims to take the potential of technologies such as artificial intelligence, machine learning, blockchain and edge computing to an entirely new level. The spectrum of solutions ranges from emotional virtual experiences and simulations to the digital factory and the metaverse in production. The focus throughout is not just on the SAP transformation but equally on the search for top IT talent to support the experts at every Group IT site across the globe. Group IT already has some 60 different nationalities working together in 29 countries as an agile, dynamic, diverse and highly innovative team. So far, they have jointly developed more than 11,000 applications with holistic, open, platform-based architectures that offer maximum flexibility and customer benefit.
Working on new application scenarios for their digital innovations, the specialists at BMW Group IT take the greatest possible care to ensure that even colleagues who are not so well-versed in IT can use their solutions independently and play an active part in the digitalisation of their environment. To explain how that works, let's take a closer look at five production topics: autonomous in-house logistics, the Edge Ecosystem, AIQX, Acoustic Analytics and the Innovation Hub Dingolfing.
A look inside the plants shows digitalisation at work.
Take a look inside a BMW plant and you'll immediately see the impact Group IT is having on processes at the BMW Group: low-lying transport robots follow invisible pathways as if by magic, taking parts and components from A to B. They stop at red lights, move out of each other's way, and reach their destination bang on time. Untiring and autonomous, there are currently more than 400 such Smart Transport Robots carrying out over 14,000 deliveries a day at the BMW Group.
So, is this what the car plant of the future will look like? Yes, it is. In fact, BMW Group car plants already look like that today. But autonomous in-house logistics – in the shape of self-coordinating, self-navigating, self-driving Smart Transport Robots – is just one of several key components of the BMW iFACTORY. There, future production rests on three key cornerstones: LEAN. GREEN. and DIGITAL: with highly flexible and efficient processes, the conscious use and reuse of resources, and deep digitalisation of every stage of manufacturing, in the future every BMW Group plant in the world will be a pioneering iFACTORY.
Industry 4.0 – Made by people, for people.
Around 500 smart vehicles are already in use at eleven BMW Group plants around the world, including not only Smart Transport Robots but also autonomous forklifts and tug trains. And the trend is upwards. In-house logistics is all about transporting components through the plant and getting them to where they are needed on time. The automation of previously manual processes like this is a key aspect of BMW Group IT's innovative strength: developed in-house just a few years ago, the logistics control system is now the largest cloud-hosted IT system in BMW Group Production.
The aim of the self-developed system was to independently enhance the control platform for autonomous logistics and allow different brands of logistics vehicle to be integrated. There are currently more than 40 software developers working on the platform from around the world, each contributing their own perspective to boost the team dynamic and generate creative solutions.
At BMW Group plants, Industry 4.0 – in the shape of automated processes, networked transport robots, digital modelling of production processes and integrated IoT (Internet of Things) sensors – has long been a reality.
Learning – As easy as a computer game.
As the standardised cloud solution is made available to the plants, the software specialists develop environments and tools specially to suit the needs of local users who are not IT experts but plant associates. The users can obtain the applications via the self-service point and utilise them to control the transport robots exactly as needed. Moreover, thanks to the developers' tutorials, which are a simple and clear as a computer game, users can also roll solutions out locally and work flexibly with the systems, adapting them daily if they need to.
The free movement of robots within the plant is enabled by the Edge Ecosystem, another specially developed innovation by BMW Group IT. The Edge Ecosystem allows equipment such as loading ramps and gates to be controlled centrally so that autonomous vehicles can move about more easily. It also significantly reduces the manual work involved in system control. As another important component in the BMW iFACTORY, the Edge Ecosystem is a key contributor to smart production and based on a concept that's as exciting as it is progressive.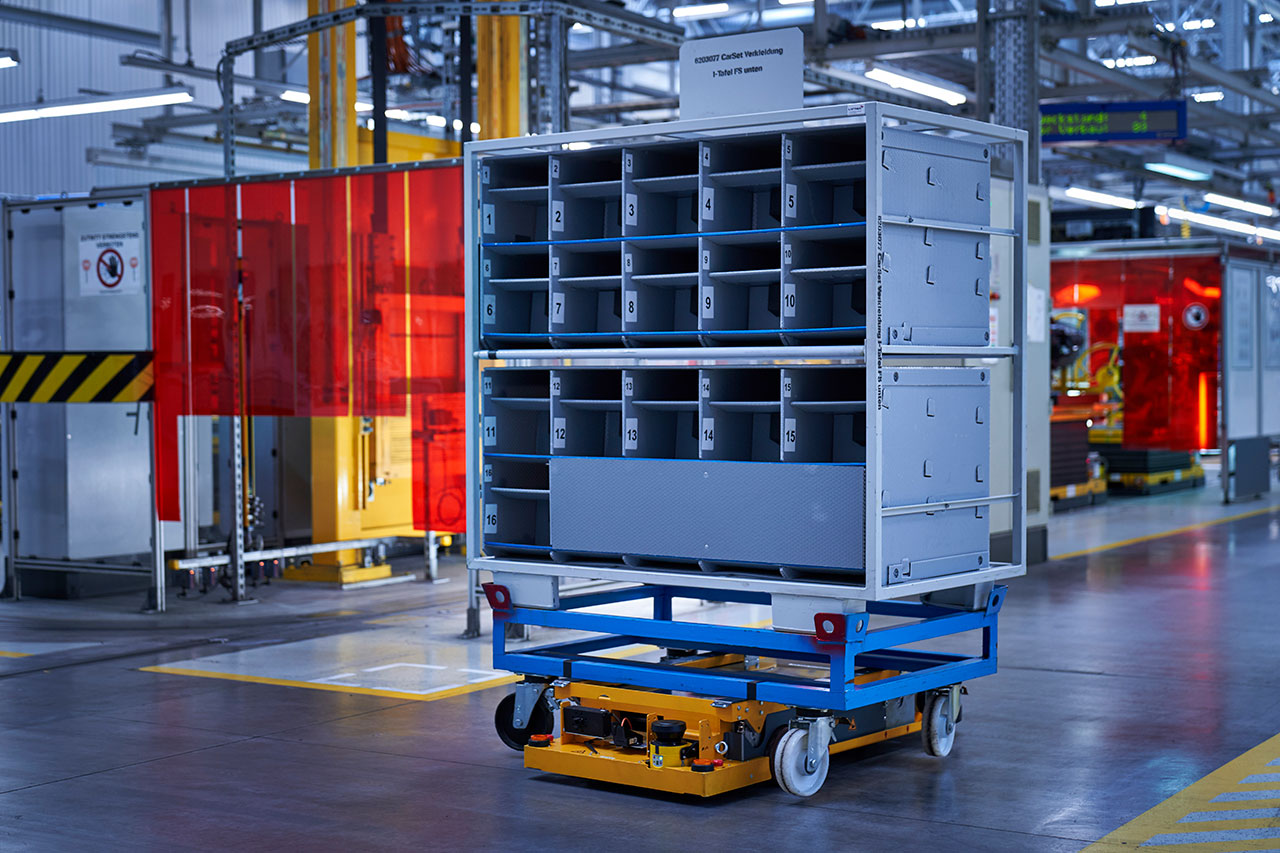 Production control on-site, support via the cloud.
The idea behind on-site production control with support via the cloud is to make industrial applications as easy to use as an app on a smartphone. Previously, the state of the art had been to manually install software on each individual industrial PC (IPC) on-site. But when failures and errors occurred, the maintenance involved was immense – and hugely detrimental to the complete digitalisation of production. With the Edge Ecosystem, however, that has changed dramatically: more than three years after BMW Group IT first started working on it, the cloud-based management platform now controls IPCs across the BMW Group production network.
As edge devices at the interface between the plant and the cloud, IPCs can now be used by anyone on-site and require no knowledge of IT at all. The application for the user's process installs automatically, and IPC maintenance is carried out remotely, via the Edge Ecosystem user interface. In the event of an IPC failure, all it takes is a click of a mouse to transfer its configuration from the digital twin in the cloud to a spare local IPC so operations can resume. So, with the Edge Ecosystem, BMW Group IT is now in a position to distribute, configure and administrate production applications across the globe from a single central office.
Generally, software developers and IT experts work closely with the specialist departments to gain an in-depth understanding of what production associates – who are ultimately their customers – need. With this approach, the focus is on the people who will be using the solutions rather than on the process. And by collaborating like this, the IT specialists have not just a clear goal to work to but also first-hand experience of the impact of their work.
Artificial intelligence and Sprints for digital quality assurance.
The impact of BMW Group IT on the BMW iFACTORY is also in evidence in visual quality assurance – thanks to AIQX (Artificial Intelligence Quality Next). AIQX is a new IT platform that uses cameras along the production line to focus on various elements and details of a new car, such as the BMW badge on the bonnet or the door locks. The cameras carry out highly automated quality control in a split second and are more efficient than anything that has before. Orchestrated by AIQX, the process is based on artificial intelligence – or deep-learning-based computer vision, to be more precise. AIQX is already in use in every BMW Group plant around the world and is revolutionising the end-to-end quality control cycle in vehicle production.
The cameras on the production line are triggered by constant real-time vehicle localisation and their images sent directly to the cloud-based AIQX platform. There, they are analysed by artificial intelligence, based on deep-learning algorithms that have previously been trained in error detection by being fed images to teach them. But now even the training process could potentially be speeded up even further, with synthetically generated image data. The necessary technologies are developing at breakneck speed and are already in use in planning and production today.
The AIQX platform was developed in-house at BMW by a global, interdisciplinary team of production specialists, software developers and data scientists. When it comes to motivation, creativity and efficiency, their combined expertise coupled with the agile working methods of Group IT are clearly the recipe for success.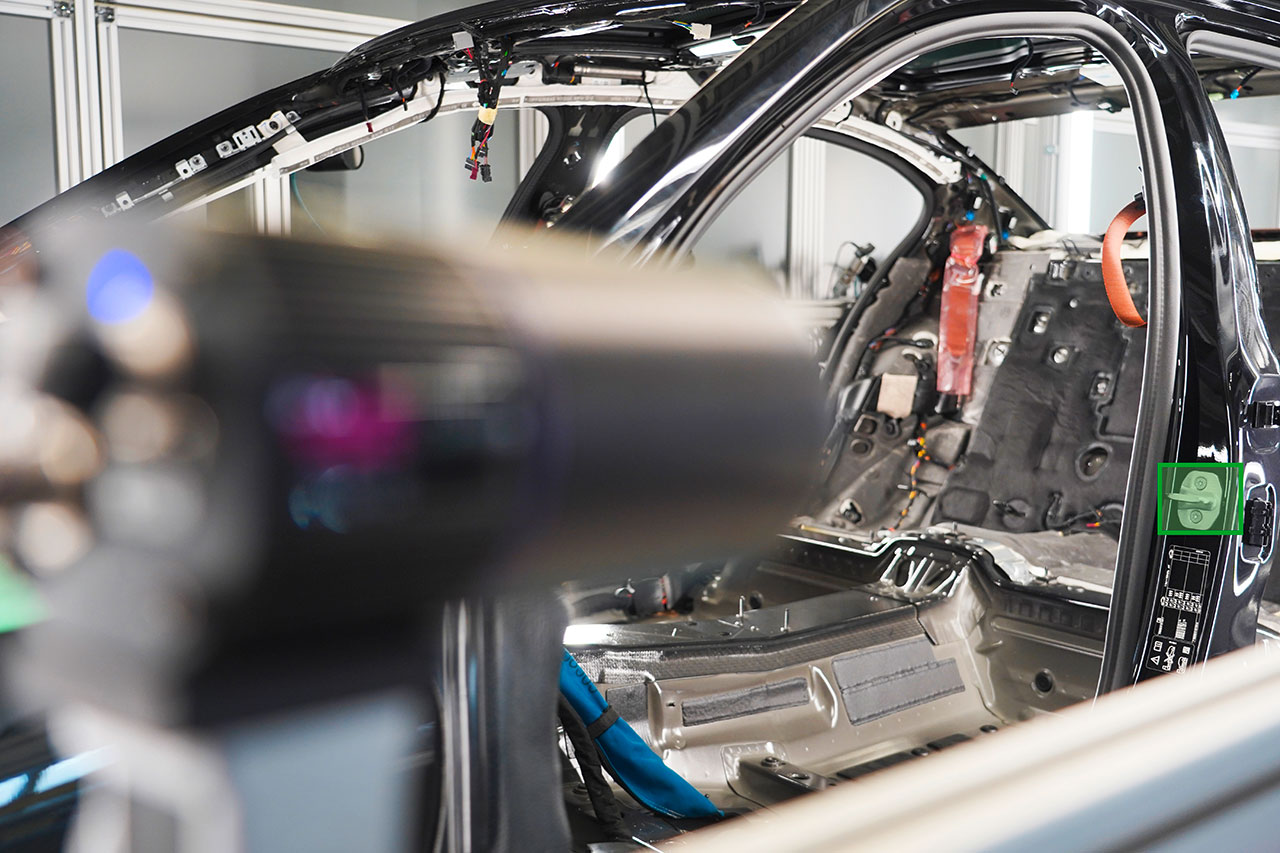 How AI is learning to listen.
Another state-of-the-art IT application is Acoustic Analytics. If you need an example, picture this: at BMW Plant Dingolfing a freshly assembled BMW 7 Series is driving autonomously along the short test-track before being handed over to the customer. But without a driver at the wheel, there's no one to hear if there are any unwanted noises that could dampen the sheer driving pleasure. No one except artificial intelligence, that is. Because that's what Plant Dingolfing uses in its latest solution: Acoustic Analytics. This uses an AI model to carry out an automated and objective audio-based quality check as a final control before the vehicle is handed over to the customer.
The driving sounds are recorded by microphones attached to the car seats and analysed and classified by artificial intelligence. Any unwanted noises are detected by the machine-learning model, which has been trained for the purpose beforehand. The advantages of acoustic checks by AI are obvious: an automated process is quicker and more efficient and eliminates any subjective perceptions of the sounds.
In combination with autonomous in-plant driving, Acoustic Analytics represents the next stage in quality assurance. Yet another AI-based solution developed by BMW Group IT, it is based on the lean, expandable architecture of the AIQX platform and suits the BMW Group's needs to a tee.
From idea to process in the global BMW production network.
The BMW Innovation Hub in Dingolfing is a place of creativity, where ideas become usable IT innovations. Opened in July 2022 as a real lab for testing future technologies, the 220 m2 facility in the Dingolfing Training Centre offers a creative space for meetups and for sharing and testing ideas. The Innovation Hub is like a plant within a plant: a complete small-scale production cell that's entirely unconnected to ongoing production. This makes it the perfect place for experiments – just like in real life but safe and unrestricted.
The Innovation Hub's customers are BMW Group departments, who bring along their ideas. If a proposal turns out to be a viable solution for several BMW Group sites worldwide, the IT specialists and the experts from the departments team up with trainees and partners such as Microsoft, Intel and NTT and set about making it a reality. The Innovation Hub in Dingolfing offers everything needed for future cooperation and collaborations: digitalisation, creative thinking and a cutting-edge training concept that enables upcoming talent to spread the latest technologies across the BMW Group. It's a unique concept that advances the progressive culture change within the company and turns the trainees of today into effective disseminators of tomorrow.
The aim of the BMW Group IT strategy is for cloud, edge and streaming technologies to be used around the world via apps developed in-house. So, the Innovation Hub is also a playground and testbed for other cloud services as well as 5G and WLAN location. This is relevant for production, for example when locating parts quickly and reliably that have been taken from A to B by autonomous transport robots following invisible pathways.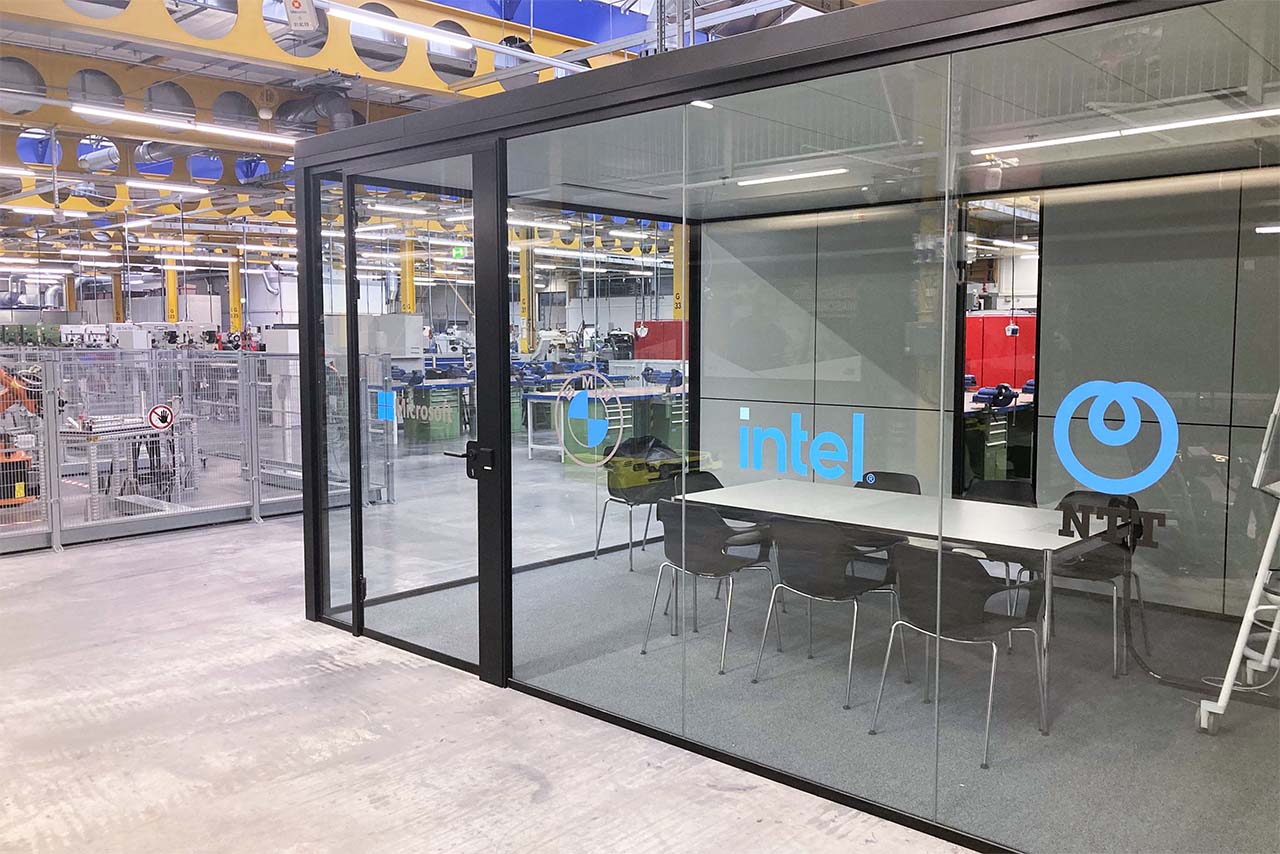 Major contribution to sustainability and efficiency.

Innovative IT topics such as autonomous in-house logistics, the Edge Ecosystem, AIQX, Acoustic Analytics and the Innovation Hub in Dingolfing are not just fascinating examples of how Group IT is rethinking and reinventing production processes; they also underscore the BMW Group's endeavours to develop digital solutions that will boost sustainability, efficiency, security, and the satisfaction of customers and associates.