Sustainability
08.12.2022
5 Min.
Protecting people and planet in the Indonesian rainforest.
An indigenous community member explains the background to a partnership between the BMW Group, Pirelli and BirdLife 
Since 2021, the BMW Group has partnered with Pirelli and the NGO BirdLife on the "Living Rubber" project, working to preserve the Hutan Harapan rainforest on the island of Sumatra. While the name Hutan Harapan means Forest of Hope, hope alone is not enough to protect biodiversity in the region and thus the indigenous communities living there. For them, preserving nature is a matter of preserving their very way of life, with targeted measures needed to truly make a difference.
The "Living Rubber" project first and foremost supports the sustainable production of natural rubber to respect the people, animals and plants who call the region home. Beyond this, it also empowers young women to learn about agriculture and receive an education.
One such group for whom the Hutan Harapan rainforest is home is the Batin Sembilan indigenous community, which makes it only natural that they are heavily involved in the program. Forty-four-year-old Bi Teguh is a rubber farmer committed to fighting illegal deforestation. She sees it as her duty to protect and preserve the rainforest – after all, the people living there rely on it for their very survival. In an interview with the BMW Group, Bi Teguh explained the project as well as the important role it plays in safeguarding human rights, empowering women and protecting the region's environment.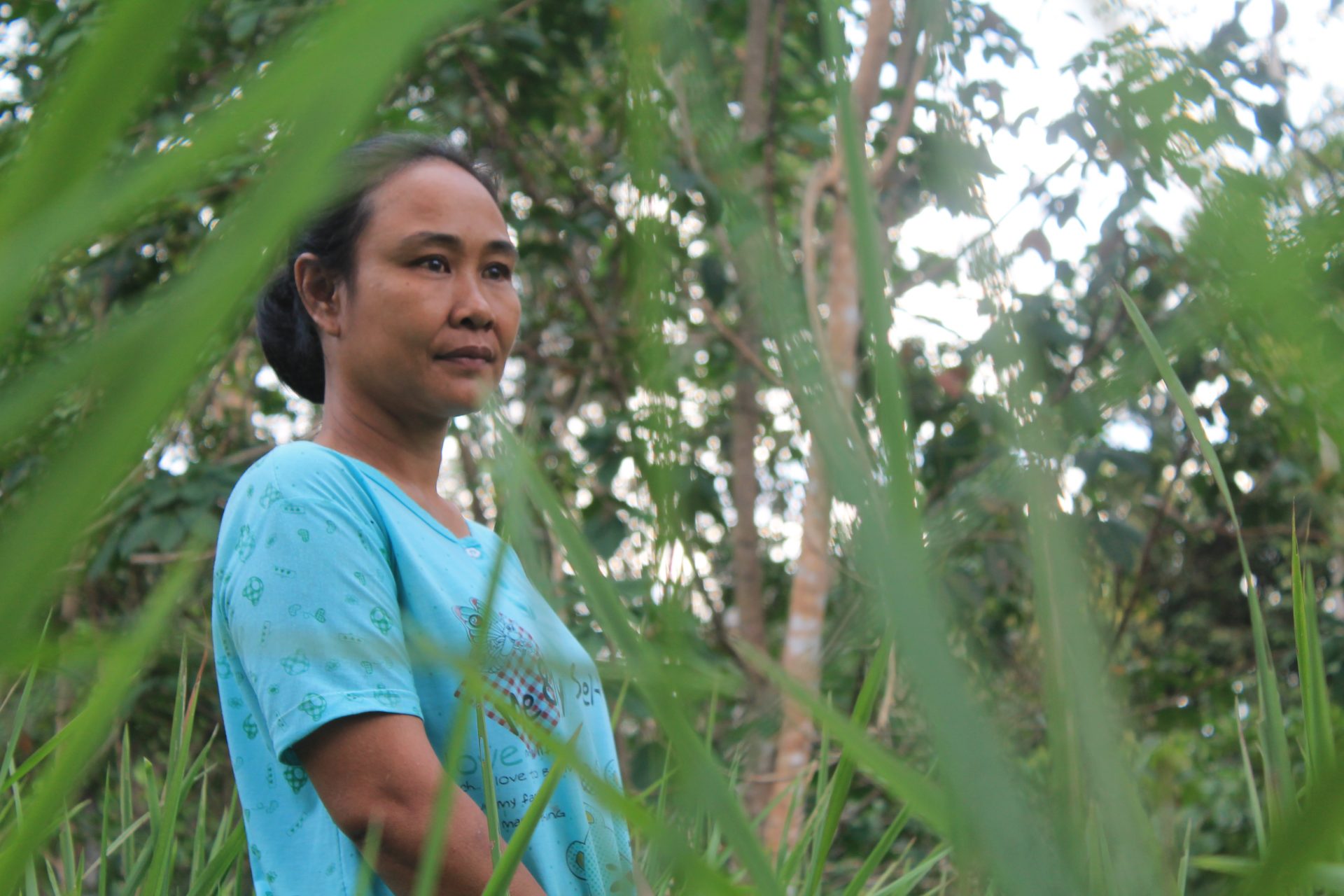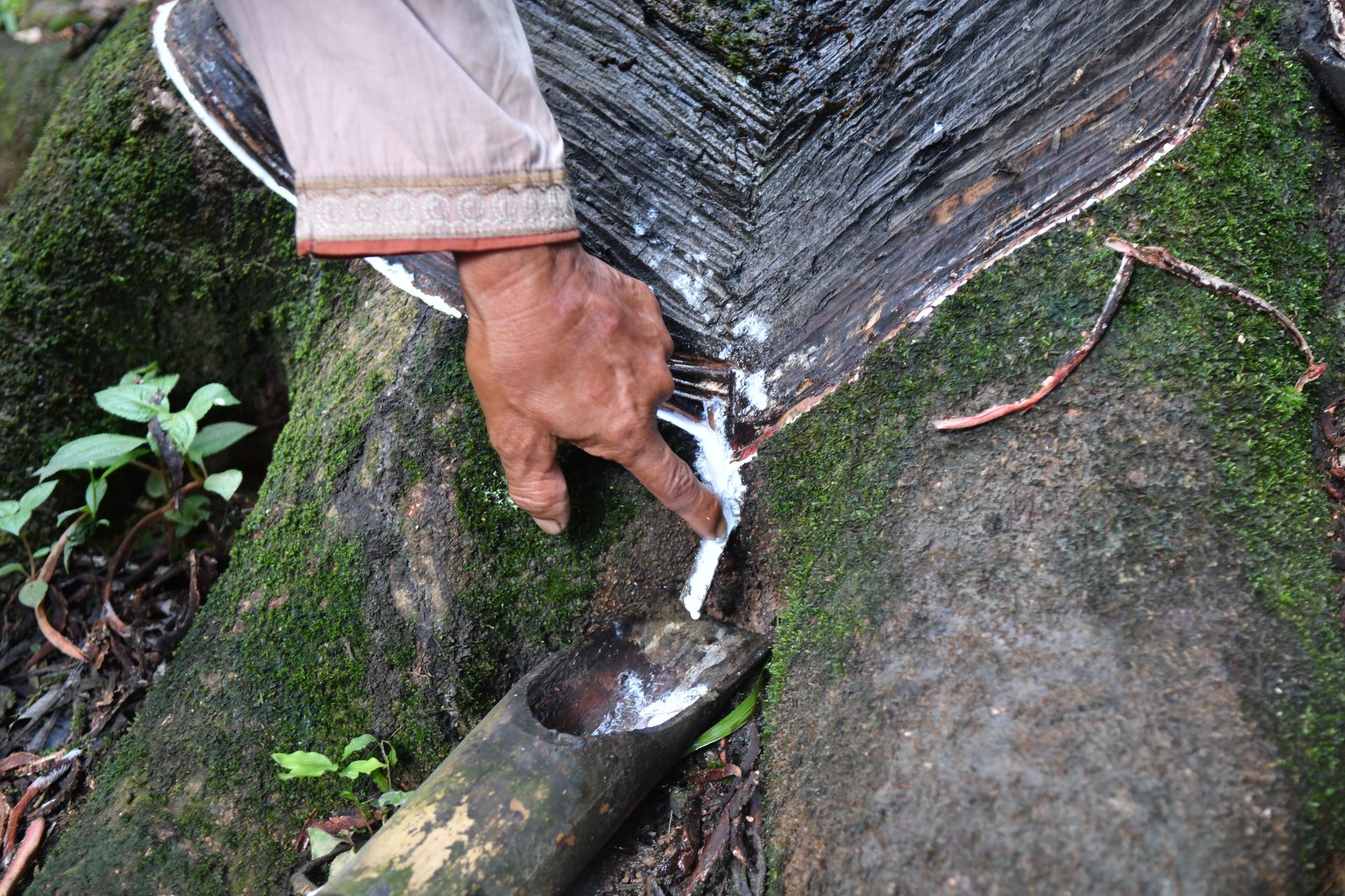 Rubber tree in the Hutan Harapan rainforest.
BMW Group: When did you first feel the rainforest was under threat?

Bi Teguh: I can't remember exactly, but the damage started when the palm oil company was established. Encroachers started burning the land, and since then, the weather has been unpredictable and our harvests have been dwindling.
What are the goals of this project?
Hutan Harapan is very important for me and our community, and for women especially. It's our home and has many of the things we need to live.
That's why we are protecting Hutan Harapan together. For example, by patrolling it – which we do together with our sons and husbands, and with other women.
We do it so our children can have a better future thanks to projects like this, and because it helps the owners of rubber, fruit and other plantations.
Why is it so important to involve women in the survival and protection of the region?
Because men and women do different things. Our women use forests more: we go fishing there and collect firewood, rattan, dammar and so on. The men, on the other hand, only go to certain places in the forest, to collect dragon blood and sialang honey. That's what they do for the most part.
And that's why the women are more involved in forest protection, because we need the forest every single day.
Why do women in Hutan Harapan need new skills?
Many of us don't know how to read or write, and there are lots of other things we don't know too. But education will change that. We are learning hygiene skills and more about things like gardening and planting – not just what plants to grow but also the depth and distance to plant them and how to look after them. We learn and work hard with what we are given. We plant the seeds, nurture them and take care of them. We go to classes and learn – because the forest is our future.
We really hope the "Living Rubber" project is not just temporary. We need whatever they can give us. We also want the project to continue for posterity, so that my children, grandchildren and great-grandchildren can enjoy the benefits.
How did you get involved in the project?
I feel it's my responsibility to protect and preserve Hutan Harapan – even though we can't protect all of it because there are more encroachers than there are of us. So, the important thing is to do all we can, to put the effort in together, along with our husbands and children. We need to be really passionate about protecting the forest because we need it to survive.
What's your role in the project?
My role is to lead groups of children and women especially, coordinate where to go and explain what to do if we meet encroachers or find an illegal hut or anything. That's my role in the forest patrol.
I also inform people about various activities such as gardening, planting and training courses.
I grew up in a big family, and even though I'm still young really, I'm already old in terms of my family, so I am always the leader, the elder.
In 2018 you spoke to an international audience about the need to protect Hutan Harapan from encroachers who were turning the land into palm oil plantations. How did that come about?
I was invited to speak in Jakarta [by PT REKI, the group that manages the Hutan Harapan area as a designated "ecosystem restoration concession"]. I had never done anything like that before, so I was a little nervous. I was supposed to speak for seven minutes but did less because I was so nervous!
I was told to just explain what was important to me. Everyone needs the forest. Not only ants, flora and fauna but humans too. And that's why I raised the topic and told the ministers and the President about that in particular.
Did you ever think you'd be an international advocate?
Never. I was even afraid to get on the plane! But for the sake of the forest and my friends, children and grandchildren, I did it. Our future is not in the city but in the forest. We need to speak about our problem, to be heard. Outsiders would probably never have known about us, so whenever I am invited to speak, I do so. I'll do whatever it takes to preserve the forest.
What is your hope?
If we can stop encroachment, I think there is still hope. The forest is still quite large – big enough to find what we need there. Things like rattan, resin, and other things we need are still there.
Also, I'm getting older and have three children and three grandchildren. This is the least I can do for them.
So, my hope is that the "Living Rubber" project will give future generations what they need. If we can succeed together, I will be very grateful.