Sustainability
19.08.2022
5 Min.
The BMW Group sustainability strategy rests on these six pillars.
As well as the systematic electrification of the vehicle fleet, the company aspires to be a pioneer and pacemaker in the circular economy.
It is one of the biggest tasks of our time: conserving resources and protecting the environment. This challenge appears to be especially great for an automobile manufacturer, as individual mobility can be perceived as interference with our ecosystem.
In the spirit of  "rethinking", the BMW i Vision Circular concept vehicle shows the direction in which the company is moving: an electric car consisting completely of recycled material that can be recycled again once its life as a car comes to an end. It stands for a circular economy, without CO2 emissions and without waste. It is the perfect mix of driving pleasure and satisfaction of conserving resources.
This is exactly the thinking of the BMW Group, that effective climate protection can only be achieved through the broad deployment of innovative technologies. Yet sustainable thinking and actions within the company go beyond achieving climate goals. It follows a 360° sustainability approach, supported by six pillars.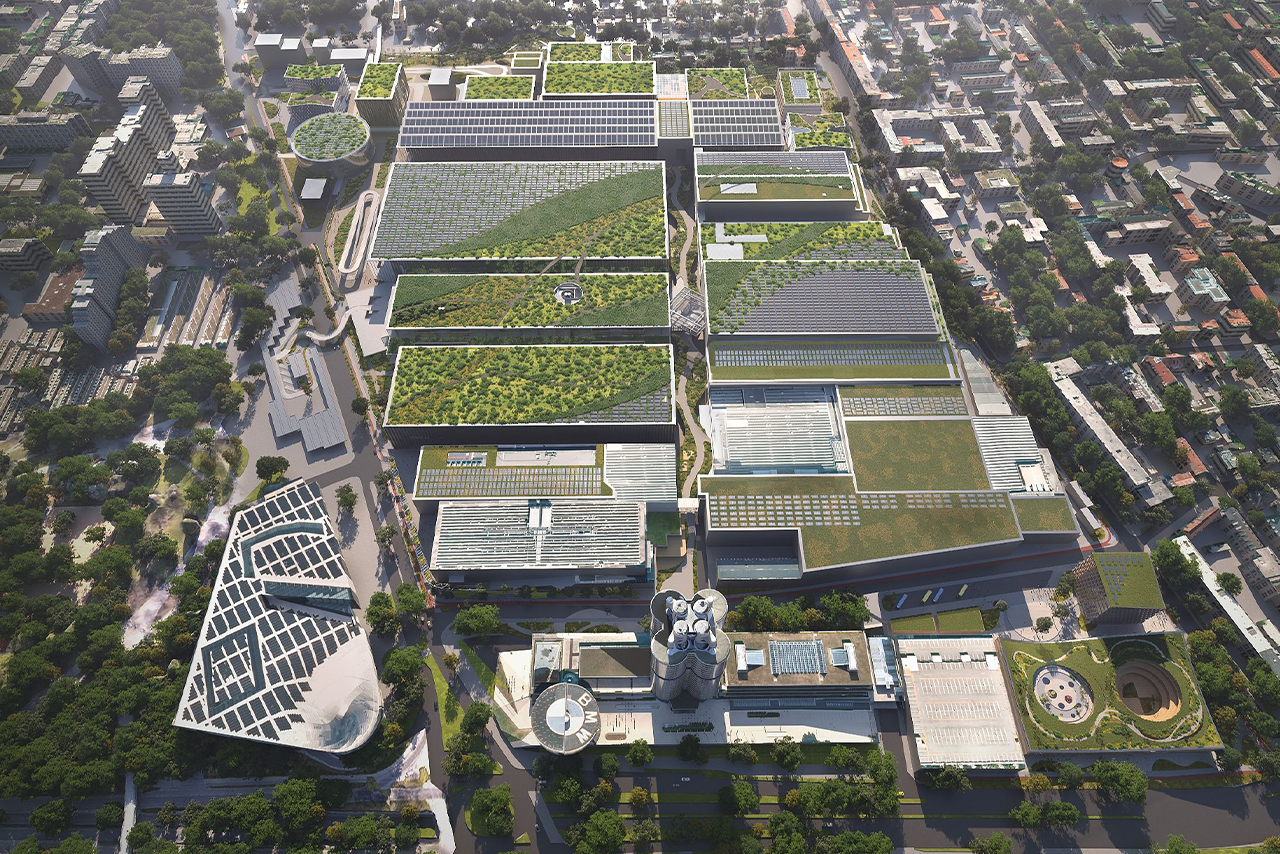 The BMW plant in Munich becomes iFACTORY
Maximum energy and raw material efficiency.
1. Circular economy. Raw materials from used vehicles will be recycled as far as possible for the series production of new cars. Based on the "secondary first" approach, BMW Group vehicles are already made from up to 30 per cent recycled and reused materials. It is planned to increase this figure up to 50 per cent. For the BMW i Vision Circular, recyclates or renewable raw materials such as wood are used exclusively.
The circular economy is the most sustainable type of economy. It starts at the vehicles' development stage. The principle is to use as few components as possible, which are easy to disassemble and sort and are reusable or recyclable. At the dismantling and recycling centre (RDZ) in Unterschleißheim near Munich, up to 10,000 BMW Group vehicles are disassembled and recycled every year. This knowledge flows into the development of new vehicles so that they can be optimised in terms of their recyclability right from the start.
Every second car from the BMW Group will be a BEV from 2030 onwards.
2. Electrification. The demand for fully electric models is rising exponentially. The BMW Group is driving the electrification of the entire fleet forward systematically. The road map is as follows: by 2030 at least every second vehicle will be fully electric. This year, the BMW Group will already have manufactured twice as many vehicles in this segment as in 2021. MINI and Rolls-Royce will offer only fully electric vehicles from the early 2030s onwards.
By 2023, the BMW Group will offer its customers 13 fully electric models. "For us, sustainability means much more than just building and selling electric vehicles," says Thomas Becker, Head of Sustainability and Urban Mobility at the BMW Group. "The bottom line is that only a comprehensive approach to sustainability, from resources to recycling, will actually reduce CO2 emissions."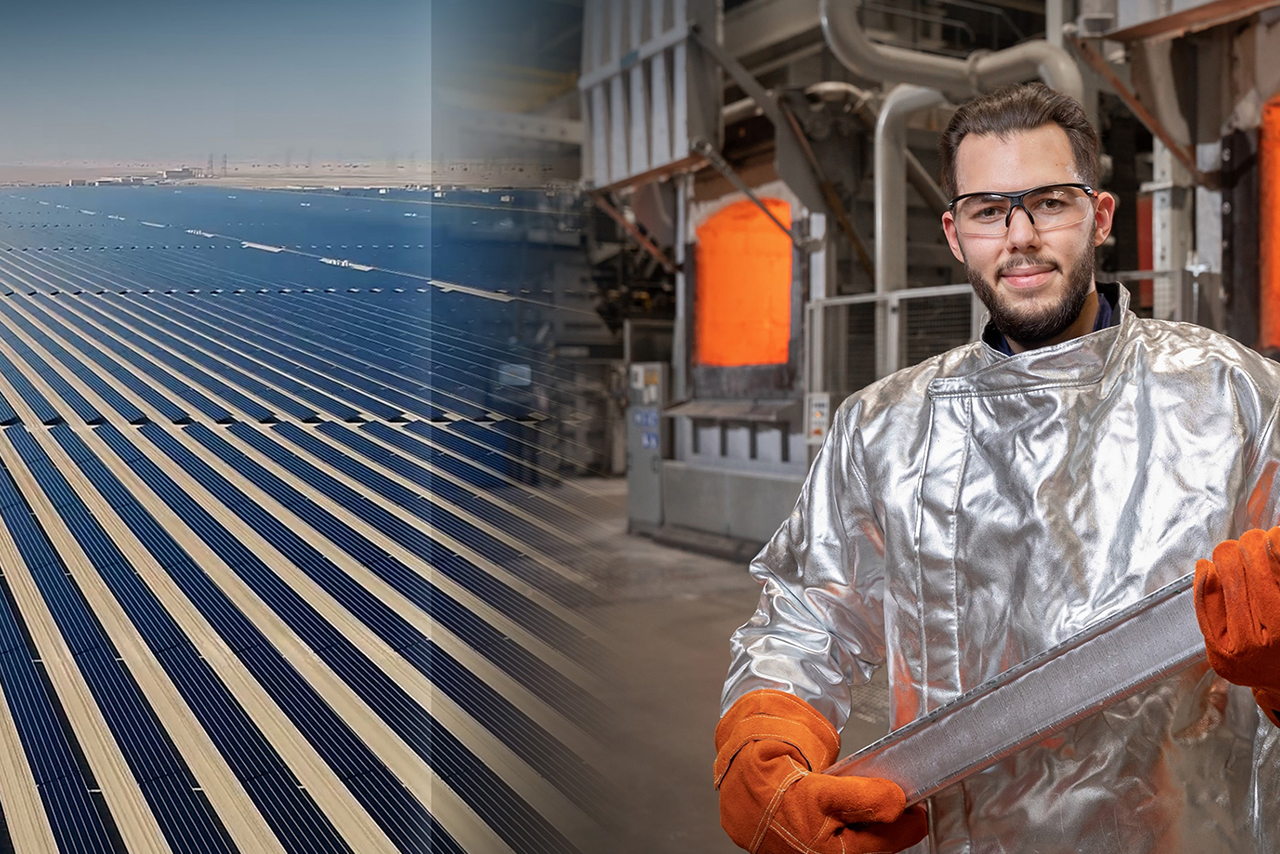 "Secondary First": In production, the focus is on conserving resources
BMW iFACTORY. LEAN. GREEN. DIGITAL.
3. Production. The principle of a circular economy is also transforming manufacturing processes. The iFactory represents this transformation. The BMW Group is using it to present its revolutionary strategy for the automotive production of the future. From Munich, to Shenyang, Oxford and Spartanburg – the company will make a new dimension in efficient, sustainable and digitalvehicle production a reality at all 30 BMW Group locations, in accordance with the LEAN. GREEN. DIGITAL. principle. Digitally networking the plants is essential to managing this global organism with countless digital nerve cords in an efficient, flexible and fast way.
Energy efficiency, resource conservation and waste avoidance are being further improved at the production sites with the transformation into an iFACTORY. Green electricity and avoidance of fossil fuels are at the focus. The BMW Group is underlining its strategy with facts and figures: around 70 per cent of leftover aluminium and steel offcuts from the pressing plants is recycled. This has allowed the company to reduce CO2 emissions in international production by more than 70 per cent since 2006. All plants have been CO2 neutral since 2021. Alongside this, water consumption and waste generation have been reduced.
High environmental and social standards for our partners, too.
4. Supply chain. The more the BMW Group electrifies its fleet, the greater relevance the supplier network has. It considers the whole value creation chain in order to reduce emissions in a targeted way. "We don't talk, we act," says Dr Joachim Post, Member of the Board of Management of BMW AG, Purchasing and Supplier Network. As well as environmental standards, the company has committed itself to social standards along the entire supply chain, so that human rights are respected and protected and fair working conditions are guaranteed.
The BMW Group can underpin its strategy regarding emissions with figures, too: the CO2 emissions of the supply chain will decrease by 20 per cent by 2030 compared to 2019 through these measures. It has already entered into more than 400 contracts with suppliers to use 100 per cent green electricity. From 2024, all cast aluminium wheels for BMW and MINI vehicles will be produced exclusively with green electricity. From 2025, it will use CO2-reduced steel, which is produced using only natural gas, hydrogen and green electricity. That will reduce CO2 emissions by up to 400,000 tonnes per year. "We at the BMW Group want to realise the most sustainable supply chain in the automotive industry," says Dr Joachim Post.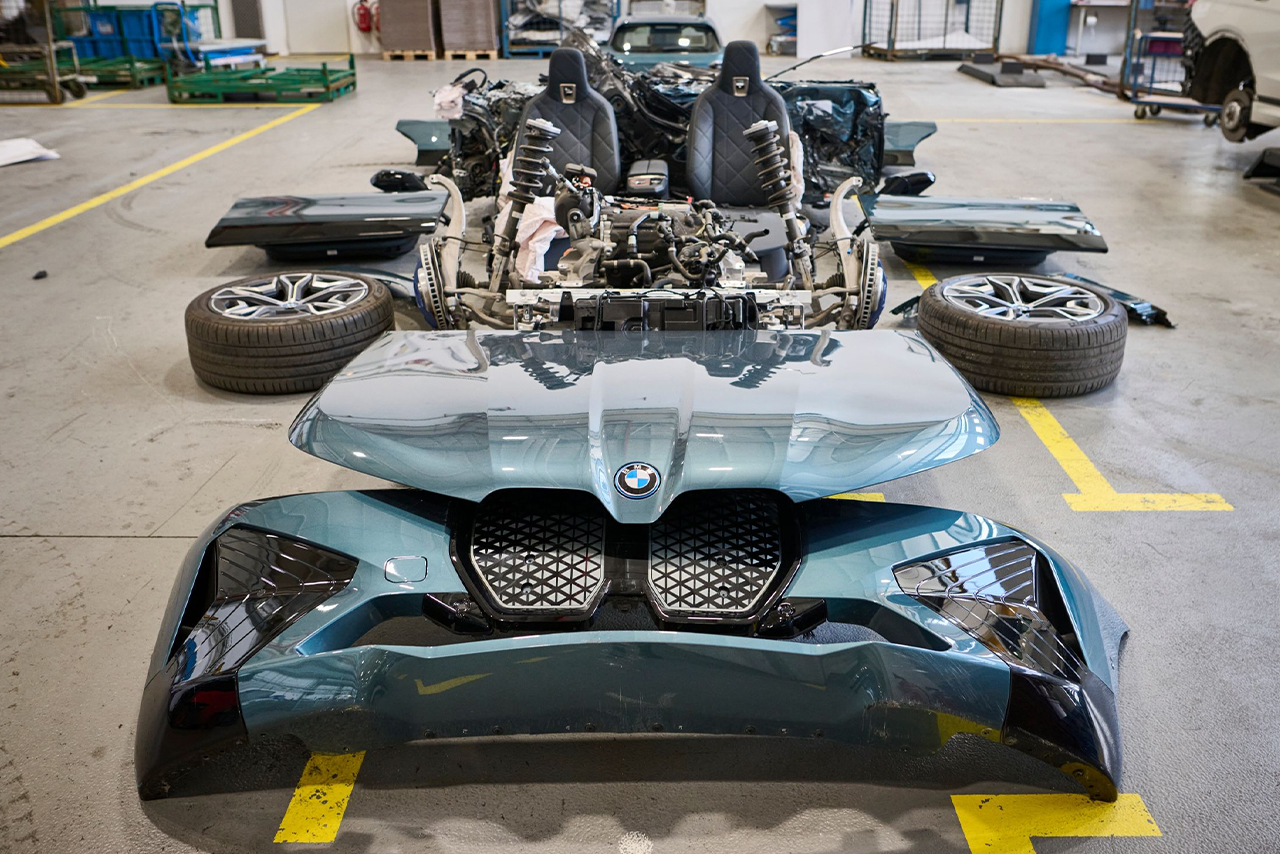 Vehicles are dismantled and recycled at the RDZ in Unterschleißheim near Munich
Investing millions in training employees.
5. Employee development. Consistently working toward increased sustainability includes living up to the responsibility as an employer towards its employees. Transformation processes are tied up with concerns about the future in many companies, as well as with downsizing and site closures. The BMW Group differentiates itself from its competitors here.
In the past year, it has invested 389 million euros in training its employees. More than 75,000 participants in the measures have developed the skills to take on new responsibilities and help shape the transformation. More than 50,000 employees have been trained in electromobility. This qualifies the company to remain an attractive and trustworthy employer in the future. After all, employees of the BMW Group are its greatest asset. Only with them can the transformation succeed.
Commitment to diversity and cultural understanding.
6. Societal responsibility: As a company with a multinational workforce and locations on five continents, the BMW Group is a part of the global community – and it is aware of its responsibility. Diversity and cultural understanding, solid education for children and young people, and road safety are among the areas to which the company is committed. It collaborates with universities and other technology partners.
In addition, the BMW Group promotes initiatives by its employees. One current example of this is the "PowerUp" project. A powerful storage block consisting of six high-voltage batteries from former development vehicles stores solar energy from a photovoltaic system and supplies a school near the BMW Group plant in Rosslyn, South Africa. This can generate 36 kW of clean electricity every day. Enough for about 38 computers, 100 light bulbs and a water pump.
Scientifically validated climate goals.
But what does that all mean for the company's customers who want to buy sustainable vehicles? In a nutshell, a vehicle has to be not only emission-free when it is being driven; it also has to be produced in a way that is as efficient with resources as possible. A sustainable vehicle has to have a sustainable supply chain and be circular. It should come from a company that appreciates its employees and takes on responsibility in society. That's why the BMW Group views the topic of sustainability holistically.
Conserving resources and protecting the environment are promises that the BMW Group has made. It has defined its climate protection goals clearly to this end. It was the first German car manufacturer to scientifically validate its path to limiting the earth's rise in temperature to 1.5 degrees Celsius compared to the pre-industrial level through the renounced Science Based Targets initiative (SBTi). This path harmonises with the Paris Agreement. Latest by the year 2050, the BMW Group also wants the entire value creation chain to be climate neutral.
The company wants to adhere to this and all other sustainability goals, even during the uncertain present, when a high level of flexibility and adaptability is required of the BMW Group.