Electromobility
20.08.2020
6 Min.
FULL SPEED AHEAD FOR E-MOBILITY.
The BMW Group has a clear goal: to reduce CO2 emissions from our vehicles by 40 percent per kilometre driven up to the year 2030. This will require a large share of the fleet to be electrified. By 2021 e-mobiles are expected to account for a quarter of the fleet in Europe, rising to a third by 2025, and half by 2030. But for the BMW Group to achieve its goal, it will need more than just an offering of outstanding premium vehicles for customers; an adequate and intact infrastructure to support regular charging will also be needed, as well as a convincing overall package of financial and other incentives for drivers. When all of those things are in place, electro-mobility will see a rapid rise.
Meanwhile, from an environmental perspective, the CO2 savings from plug-in hybrids (PHEVS) and fully electric BEVs will need to be real, rather than just numbers. The BMW Group has optimised its products to deliver. But there are also other, 'softer' factors that will require suitable legislation, which in turn necessitates the greatest possible social consensus.
STRONGER BATTERIES, BETTER INFRASTRUCTURE.
At the moment, the battery remains one of the most expensive components in an electric car. That's because industrial production is still in its infancy compared with that of conventional engines, and only gradually gaining momentum. In addition, more development work is needed to further enhance the storage capacity of cells in battery packs. So at present, electric cars remain more expensive for consumers than combustion-powered equivalents. In some regions and countries, however, financial incentives - such as direct purchase subsidies, tax breaks, better company-car tax rates for business customers and free parking in cities - are helping to put electrified vehicles on an equal footing with conventional cars in terms of purchase and running costs.
The BMW Group is fully aware that the more an e-mobility offering suits customers' needs, the more likely it is to be accepted. And that's exactly where its products, services and consultations deliver. This year the BMW Group started to use the high degree of connectivity in its vehicles to increase the share of mileage PHEV drivers cover electrically: in cities the latest generation of plug-in hybrids automatically switch to electric operations on entering designated eco-zones. eDrive Zones of this kind are found in about 80 European metropolises, with further countries and cities due to join to the list in due course. No other manufacturer offers a technology of this kind.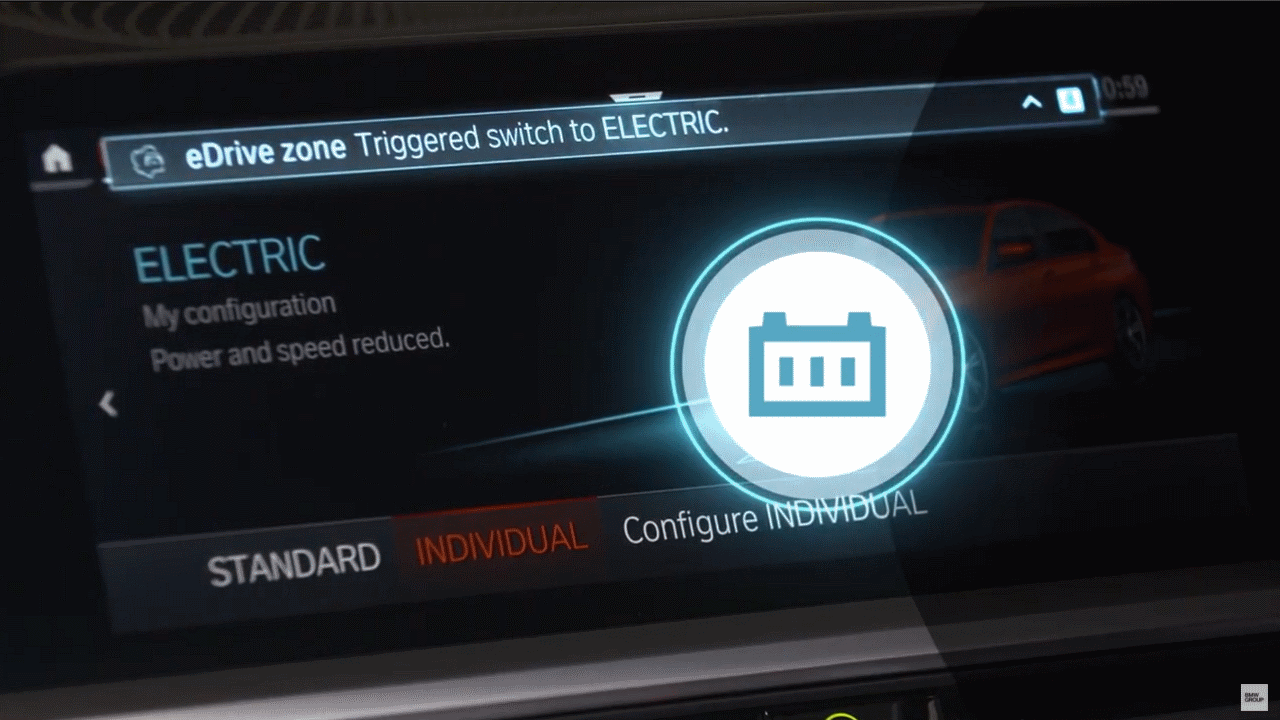 You have to accept marketing cookies to see the Youtube video.
The EU is home to millions of commuters, the vast majority of whom travel less than 30 kilometres each way between work and home. For them, a PHEV is far more fuel-efficient than a conventional car for commuting but still offers what's needed for spontaneous trips further afield. It's this option that is currently making the PHEV so popular, as shown by statistics on new registrations: PHEVs and BEVs currently account for 13.3 percent of new BMW and MINI vehicles registered across Europe (source: IHS Markit New Registrations January - June 2020; July 2020 Report). That's over one-and-a-half times more than the 8.0 percent market average achieved by the remaining brands. The BMW Group wants all of its PHEVS to be cheaper to run than comparable combustion-powered models. Based on the prices for electricity and petrol in Germany, calculations show that PHEVs can deliver cost savings of between 20 and 30 percent. Their CO2 savings depend on the electricity mix of the country concerned and the share of mileage covered electrically. Together with the direct financial incentives, to which the BMW Group is also contributing in certain markets, this makes them highly attractive to customers.
MORE CONVENIENCE AND DAY-TO-DAY VERSATILITY.
But costs aren't everything. There's also the option of non-monetary incentives, which offer personal advantages above and beyond financial savings, such as privileges for electrified and fully electric vehicles. A striking example can be found in the US, where some states allow electric vehicles to be used in the designated car-pool lanes on expressways.
For an interim period, it may well make sense for legislators to open up car-pool lanes to electric cars, because as well as saving costs, this will allow e-mobiles to offer another value-add money can't buy: time not spent in traffic jams. The same principle also underpins incentives around parking opportunities with or without charging points for e-mobiles. In almost every major city in the world, the search for a parking spot takes time and patience. But because most inner-city trips are short, and real vehicle ranges are increasing, cars no longer need to be charged daily. As a result, designated parking spots no longer need to include a charging point, so they require less of an investment. Designated e-parking spots are a welcome argument in favour of electric rather than combustion-powered cars. But at present, incentives of this kind are not often implemented: they deliberately address competitive situations, so many decision-makers in public administrations clearly consider them too risky. As part of a project initiative, BMW unveiled a new technology that will allow customers to use a function in their navigation system to book a charging point in advance if needed, along with the parking spot that goes with it.
The BMW Group firmly believes that over the longer term the limited, targeted use of financial and non-monetary incentives will support lasting advances toward progressive, low-CO2 future mobility. It is therefore working with cities and municipalities worldwide on numerous projects designed to send out clear signals for limited periods and suit local conditions. For many people who are considering buying an electrified vehicle, day-to-day advantages and simple charging are key factors in their decision.
THE MOBILITY AND ENERGY TRANSITIONS CAN ONLY WORK TOGETHER.
When it comes to establishing truly low-CO2 mobility, a key role falls to energy supply. As the number of electrified vehicles increases, so too will demand for electricity. The grid will not only have to meet demand but also need to remain stable at all times. The energy transition needs to benefit both customers and providers. One thing is for sure: the mobility and energy transitions can only succeed together. Done in the right way, the two transitions will benefit each other — another area in which the BMW Group is committed to various projects.
For a number of years, a project in California saw the BMW Group join forces with a local energy provider to offer the ChargeForward service to about 400 PHEV and BEV customers. The aim was to use as much solar energy as possible and keep the public grid stable. By digitally integrating e-mobiles into the grid, the team wanted to customise vehicle charging depending on the mobility needs of users and the availability of renewable energy. A BMW charging management system ensured vehicles were charged mainly when plenty of renewable energy was available. The study found that smart charging systems benefit not only the environment but also customers and energy providers, all in equal measure. Smart charging saves up to 32 percent of greenhouse gas emissions annually and charges 1,200 kWh of energy from renewables per car per year — enough to drive between 3,500 and 5,000 CO2-free miles. The overall concept is relevant for grid operators because as the supply of renewable energies increases, it helps them to reduce expensive investments. The BMW Group's ChargeForward concept offers savings potential for customers and providers alike, and can help cut CO2 emissions drastically.
But what's also clear is that the main factor influencing energy consumption is driving style — just like in petrol and diesel cars today.
THE POWER OF CHOICE — THE CUSTOMER DECIDES.
The BMW Group has been fully committed to the development of the public charging infrastructure since the very beginning, and offered innovative technologies, products and services for charging since 2013, when the BMW i3 was launched. The portfolio continues to develop, making electromobility ever more convenient and practical. BMW Charging and MINI Charging offer a range of relevant customised products, services and digital services. The only portfolio of this kind worldwide, they cover the full spectrum of needs around electromobility, whether customised vouchers for public charging, diverse home charging options or convenient payment and accounts for individual charging transactions. The multifaceted offering for PHEVs and BEVs underscores the BMW Group's holistic approach to promoting electromobility.
Mobility requirements vary in different regions around the world, often quite significantly. And that's not about to change. The BMW Group is responding by offering customers the drive that bests suits their needs, be it an efficient petrol or diesel engine, a PHEV or a fully electric drive. Which option is best is purely for the customer to decide. This approach is known in-house as The Power of Choice and is steadily being rolled out across BMW Group models, with the forthcoming BMW 7 Series already on the starting blocks. The flagship of the BMW brand will be available with all four drive options, as will the high-volume BMW X1 and BMW 5 Series.
The BMW Group is already a leading provider of electrified vehicles today, with five fully electric models in its range by the end of 2021: the BMW i3, MINI Cooper SE, BMW iX3, BMW iNEXT and BMW i4.