Electromobility
11.10.2023
5 Min.
The individualist – now all-electric, too.
The second generation of the BMW X2 offers impressive design, digitalisation and sustainability. What is more, the compact Sports Activity Coupé also hits the road as an all-electrical vehicle in March 2024 as the BMW iX2.
The BMW X2 has always been an exceptional phenomenon. As the first Sports Activity Coupé (SAC) in its class, it is the epitome of individual flair and modern lifestyle in the premium compact segment. This is truer than ever of the new BMW X2: in the second model generation, it not only gains in terms of format and individuality of design, it also offers distinctive accentuations in the future-oriented fields of digitalisation and electromobility. At its market launch in March 2024, the compact SAC will also be available right away as an all-electric model variant – the BMW iX2.
With a highly integrated e-drive unit on both the front and rear axles, the new BMW iX2 xDrive30 (combined power consumption: 17.7 – 16.3 kWh/100 km, WLTP) has an electric all-wheel drive that generates a system output of up to 230 kW/313 hp, enabling the car to accelerate from standstill to 100 km/h in 5.6 seconds. The range of the BMW iX2 xDrive30 determined according to the WLTP test is between 417 and 449 kilometres.
With the very first BMW iX2, the BMW Group provides further impetus for the ramp-up of electric mobility. The company now has at least one all-electric model in all the relevant vehicle segments, with two options for locally emission-free driving pleasure in the premium compact segment – namely the BMW iX1 Sports Activity Vehicle and the BMW iX2 Sports Activity Coupé.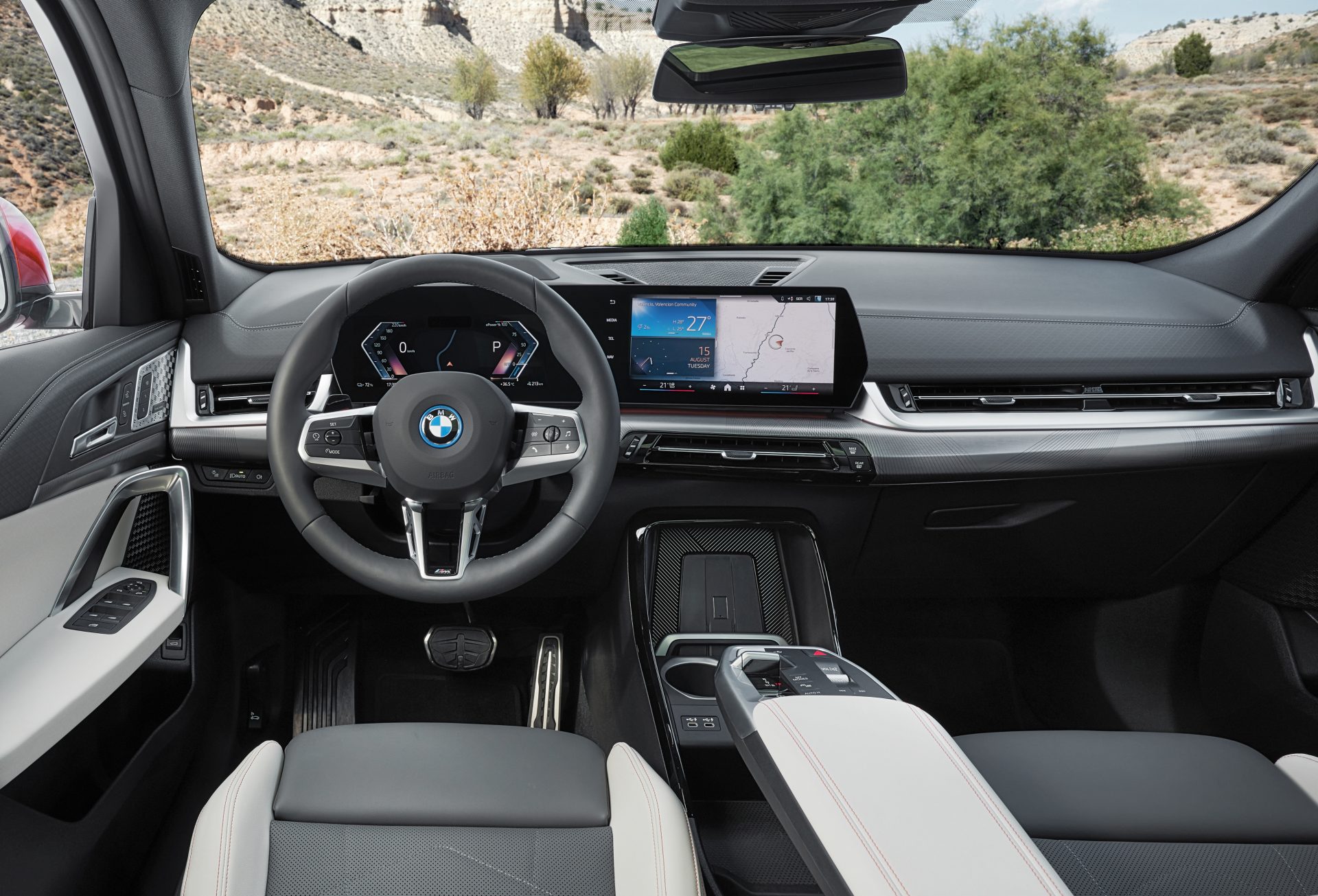 Both are produced at the BMW Group Regensburg Plant together with all other variants of the BMW X1 and the BMW X2. In the compact SAC, too, a particularly advanced vehicle architecture enables flexible production of models with all-electric drive and those with highly efficient petrol and diesel engines on a single production line. So in addition to the all-electric BMW iX2, the performance car BMW X2 M35i xDrive (combined fuel consumption: 8.0 – 7.7 litres/100 km; combined CO2 emissions: 181 – 174 g/km according to WLTP) will also roll off the production line in Regensburg right from the start of production. The top model with an output of 221 kW/300 hp (233 kW/317 hp in the USA and other markets) with M-specific design, drive technology and suspension setup sprints from zero to 100 km/h in just 5.4 seconds. In addition, the model range of the new BMW X2 includes a further petrol engine and a diesel variant available from market launch.
All variants of the new BMW X2 benefit from a design that is both distinctive and extrovert. The exterior and interior dimensions are significantly larger than those of the previous model, and there is much clearer differentiation from the BMW X1, too. With its proportions and coupé-shaped silhouette, the new BMW X2 is instantly recognisable as an SAC. Its upright front view conveys a powerful, self-confident presence. The focus is on flat LED headlights and an almost hexagonal BMW kidney, which can be combined with the BMW Iconic Glow contour lighting for the first time on a BMW compact model. At the rear, flared wheel arches, powerful shoulder sections and a Gurney-style spoiler accentuate sporty flair.
With a wide range of exterior paint finishes – including the new Fire Red metallic variant and two Frozen paint finishes from BMW Individual – along with the optional extras M Sport Package and M Sport package Pro, the new BMW X2 offers a wide range of customisation options. In addition, 21-inch light-alloy wheels are offered on a BMW compact model for the first time.
Compared to the predecessor model, the new edition has grown in length by 194 millimetres to 4 554 millimetres, in width by 21 millimetres to 1 845 millimetres and in height by 64 millimetres to 1 590 millimetres, thereby ensuring ample interior space. The driver and front passenger benefit from a noticeable increase in shoulder and elbow room, as do the rear passengers. In combination with the newly developed seats, the variable five-seat space enhances long-distance comfort in particular. Sports seats, power seat adjustment with memory function, lumbar support and a massage function are optionally available.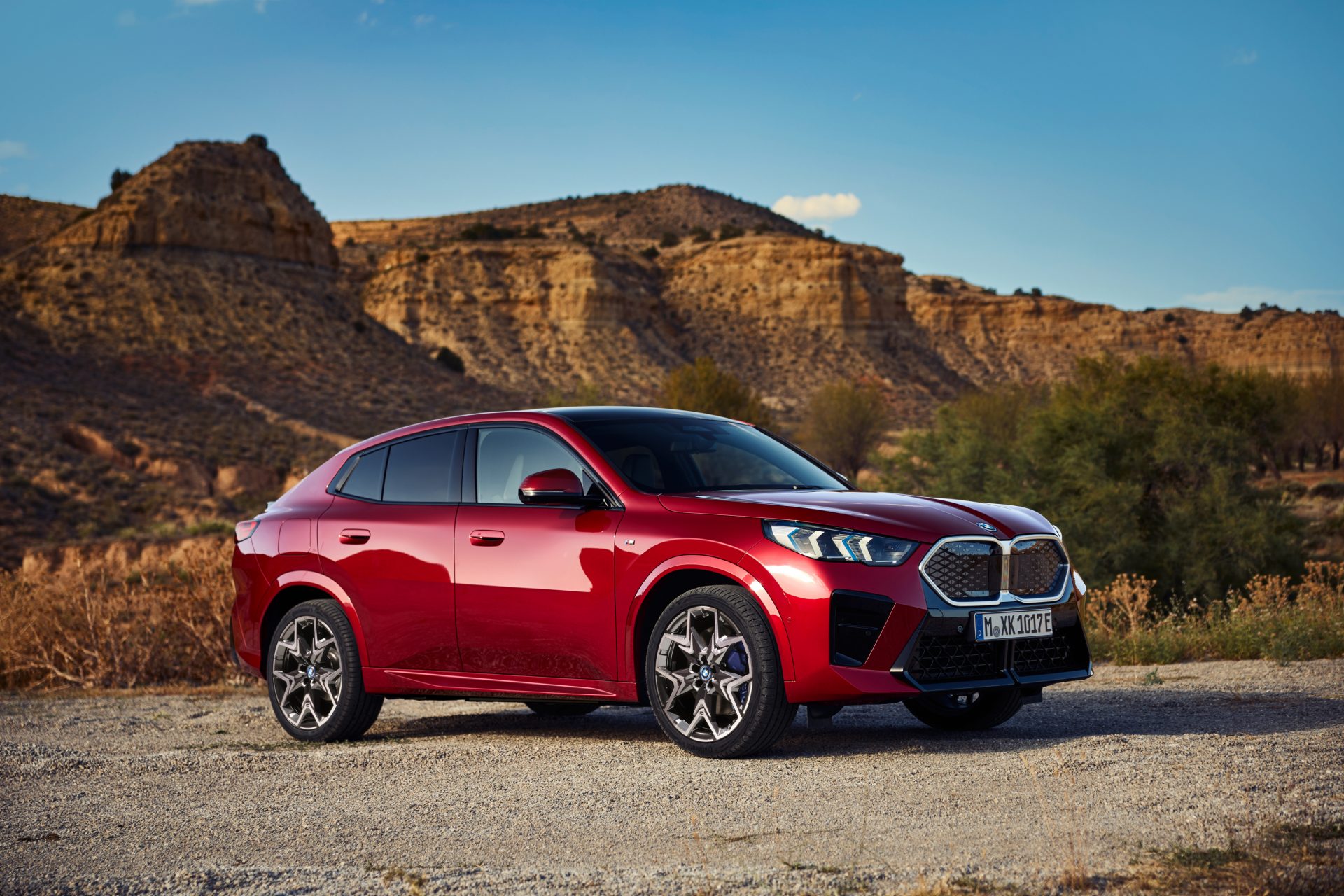 The scope of standard features has been significantly expanded, too, now including the cloud-based BMW Maps navigation system, 2-zone automatic climate control, a sports leather steering wheel and automatic tailgate operation. Innovative driver assistance systems for greater comfort and safety are on board as standard in the new BMW X2, as is the Parking Assistant including Reversing Assist Camera and Reversing Assistant.
The new BMW X2 also features the latest generation of the BMW iDrive display and control system with "QuickSelect" based on BMW Operating System 9 as standard. With the BMW Curved Display and the BMW Intelligent Personal Assistant, the enhanced BMW iDrive is consistently geared towards operation via touch functions and natural speech. As a result, it was possible to reduce physical controls such as buttons, knobs and switches to a minimum so as to create a tidy, modern cockpit.
A proprietary BMW Group development, BMW Operating System 9 provides access to a unique wealth of digital content for information and entertainment, as well as faster update cycles and optimised access to a wide range of customisable online services. The new BMW Digital Premium offering is now available via BMW ConnectedDrive upgrades, for example.
One highlight of BMW Digital Premium is a new form of in-car gaming which is unique in the automotive sector. In cooperation with the games platform AirConsole, BMW presents a broad selection of so-called casual games inside the vehicle which can be used during waiting times while charging the high-voltage battery of the BMW iX2, for example. In addition, the driver and front passenger can enjoy a variety of video streaming services (powered by Xperi TiVo) on the Control Display when the vehicle is stationary. This gives customers access to a continuously growing range of aggregated video material, including country-specific content such as news, live and on-demand streaming of films and series, for example.