Innovation
31.08.2022
4 Min.
BMW Group produces fuel cell systems.
In developing fuel cells, the BMW Group is focusing on an alternative emissions-free technology that will in future be implemented in the small-series BMW iX5 Hydrogen. Production of the hydrogen drive component has now begun.
As it starts production of fuel cell systems developed in-house, BMW Group is taking the next step toward sustainable electromobility. The ground-breaking combination of fuel cell and high-performance battery in the vehicle offers an intriguing carbon-free alternative to electric drive forms already in place, in a system that is suitable for day-to-day use. In doing so the company is providing another sustainable, worthwhile drive option – meaning more emissions-free options in everyday mobility.
The advantages of this alternative technology are clear: "As a versatile energy source, hydrogen has a key role to play on the road to climate neutrality. And it will also gain substantially in importance as far as personal mobility is concerned. We think hydrogen-powered vehicles are ideally placed technologically to fit alongside battery-electric vehicles and complete the electric mobility picture," says Oliver Zipse, Chairman of the Board of Management of BMW AG. "By commencing small-scale production of fuel cells today, we are demonstrating the technical maturity of this type of drive system and underscoring its potential for the future."
Optimised fuel cell technology: More performance, lower weight.
Hydrogen fuel cell technology is used in the new BMW iX5 Hydrogen, which will be built in a small series in 2022 and used worldwide for test and demonstration purposes. The vehicle impressively demonstrates the major leap that BMW Group has made over recent years in the area of fuel cells. This is also confirmed by Frank Weber, Member of the Board of Management of BMW AG for Development: "Our many years of research and development work have enabled us to get the very most out of hydrogen technology. "We have managed to more than double the fuel cell's continuous output in the second-generation fuel cell in the BMW iX5 Hydrogen, while weight and size have both decreased drastically."

The innovative fuel cell technology of the small-series vehicle offers continually high performance of 125 kW/170 hp. In combination with an electric engine from the fifth generation of BMW eDrive technology and a high-performance battery developed especially for this vehicle, the powertrain of this vehicle brings 275 kW/374 hp to the road. For the small series the development team has integrated the powerful drive system – which consists of two hydrogen tanks, the fuel cell, and the electric engine – into the existing architecture of the BMW X5.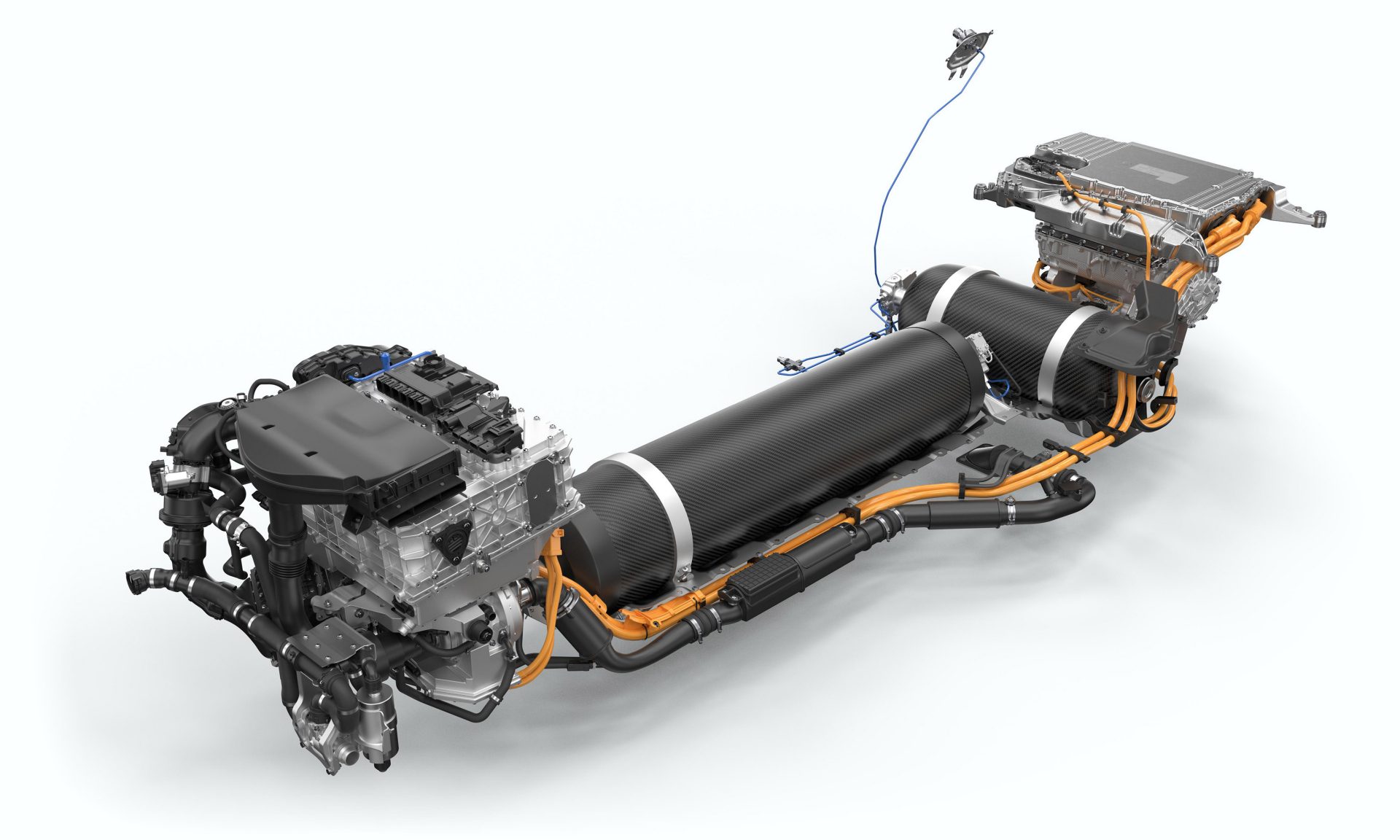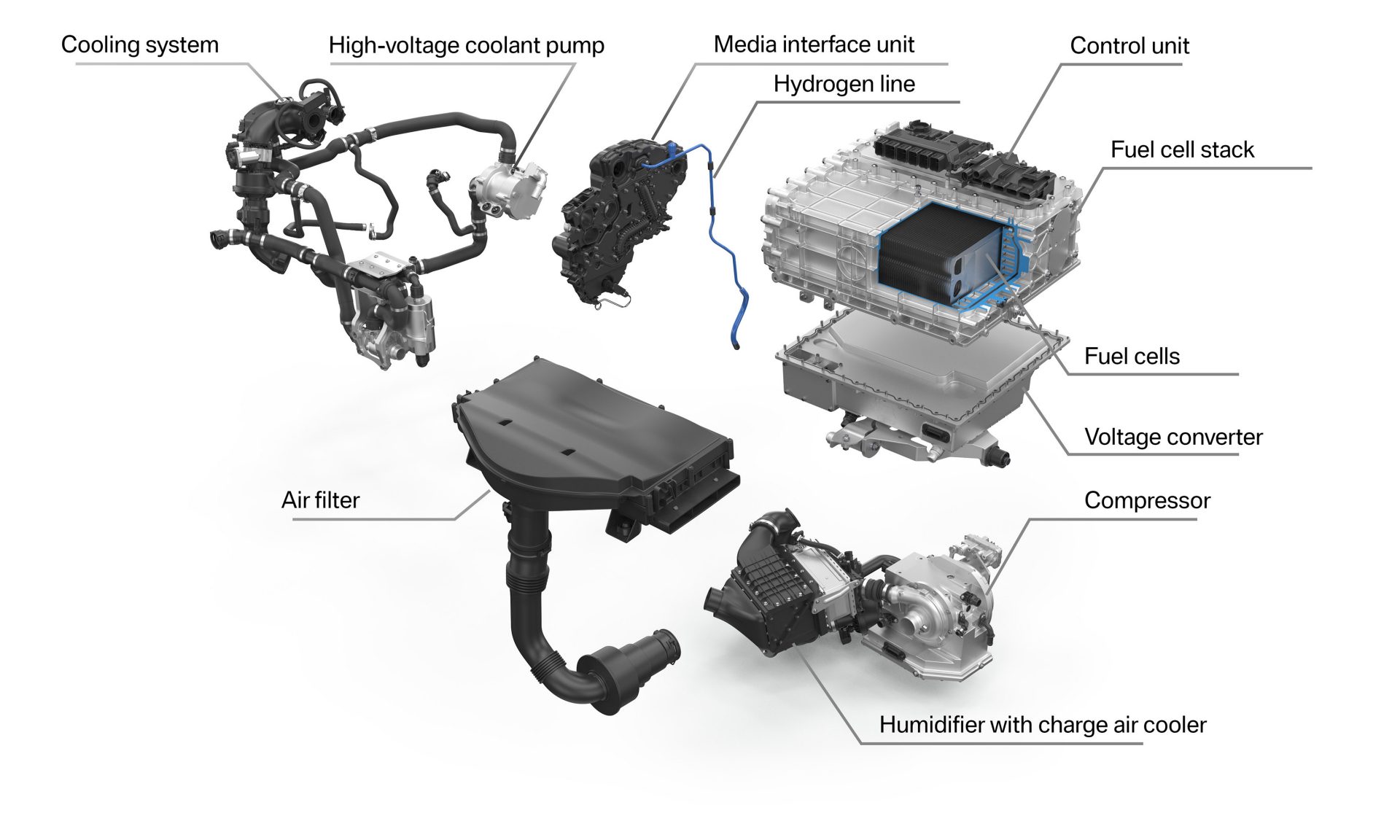 Drive system of the BMW iX5 Hydrogen

Specially developed hydrogen components.
And this is how the new technology works: A chemical reaction between the hydrogen from the tanks and oxygen from the ambient air takes place in the fuel cell. Consistent supply of both media to the membrane in the fuel cell is crucial to ensuring high drive efficiency. In addition to technological innovations analogous to combustion engines, such as charge air coolers, air filters, control devices and sensors, BMW Group has also developed special hydrogen components for the new fuel cell system. This includes, for example, the high-speed compressor with turbine and the high-voltage coolant pump. 
BMW Group presents a drive system that is unique worldwide.
BMW Group can now start to produce a drive system within the premium segment that is unique worldwide thanks to the company's many years of experience. Hydrogen combustion engines were in use even before the fuel cell. For efficiency reasons, BMW Group decided to continue its development in this area from 2015, with the BMW 5 series GT Hydrogen Cell based on fuel cell technology. Fuel cell technology has been continually optimised ever since at BMW Group – first and foremost with all of its expertise from the area of conventional drive technologies, and its ultimate aspiration to achieve efficiency in all vehicles.